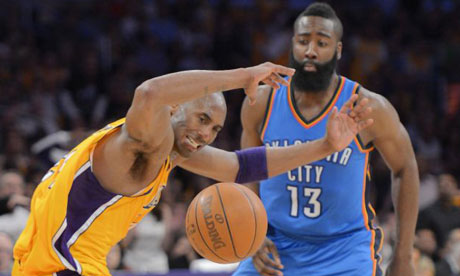 In honor of Chris Paul….WoW!
This reaction has been shared by many fans, both for Houston and Oklahoma City, even by LeBron James and Eric Maynor.
To recap, James Harden has been traded to the Houston Rockets alongside Cole Aldridge, Lazar Hayward, and Daequan Cook for Kevin Martin, Jeremy Lamb, two 2013 1st round picks (Toronto pick acquired from the Kyle Lowry trade, and the other from Dallas), and a 2013 2nd round pick via Charlotte according to Yahoo! Sports.
This trade stems from Harden's unwillingness to take OKC's 4 year, $53-55M extension offer and instead wanting the full $60M. With this in mind, Sam Presti, the Thunder GM, apparently decided to cash in on Harden now instead of making another run at a title, and then re-evaluating.
Since this is a Lakers blog, I will stop with my personal reactions to this trade, and rather focus on how this affects LA both this year, as well as long-term. With this in mind, let's take a look at the short-term effects.
SHORT-TERM EFFECTS
Previously, the Thunder were projected 1st in the West as Lakers would not "waste" themselves trying for the 1st seed. They all know that what matters is winning in June based on comments from Dwight, Nash, Gasol, and of course, Kobe. However, with this trade, OKC loses a true game-changer in Harden.
It does not help their chances this year at a title, and this should propel the Lakers to the Finals(as well as 1st seed in the West). His clutch shooting(except last year's Finals), great defense, and overall in-your-face mentality hurt the Lakers.
Defenses concentrating on stopping Durant had to leave someone alone, and amazingly, most of the time it was Harden getting the open shot. For OKC, Harden acted as a PG down the stretch, as he had more PG skills than Westbrook. Now with Dwight, the pick-and-roll should not affect LA as much, but last year, his ability to run the P&R hurt LA. Even that option is limited now.
Harden was the "glue" guy for OKC, and made everything run smoothly. With the Lakers supposedly struggling to gel (they have had full training camp and preseason to gain chemistry), how will chemistry be an issue for Oklahoma City? How will Kevin Martin fit in? Sure he usually does great vs. LA, but his defense is suspect compared to Harden's or anyone as a matter of fact, and although he scores in bunches, he does not do too much else.
This means that at the end the game, Lakers (and Kobe specifically) can potentially take advantage of Martin on offense, or it could force OKC to play Sefolosha for defensive purposes, and should allow Lakers to pay much more attention to Durant and Westbrook on defense. Harden was the X-factor for OKC, and now, Martin will not be able to match that. Oklahoma has just gifted the Western Conference to the Lakers in my honest opinion. That is how big this trade helps LA this year.
LONG-TERM EFFECTS
With OKC picking up two 1st-rounders, it means that Presti wants cost-controlled talent. The Toronto pick should be fairly high, which means that OKC can pick up a good young player via draft to help their team. Kevin Martin is an expiring contract, so unless he takes a big pay-cut annually, he probably will not be back.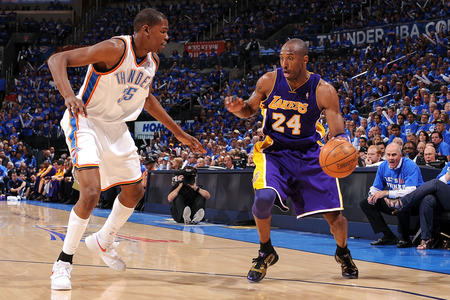 In theory, Nerlens Noel could slide down the draft board and end up in Oklahoma. Presti should pick wisely to re-tool and make up for the Harden loss. If he somehow manages to trade up and draft Andrew Wiggins, this whole trade takes a crazy turn, but time will tell. The money issue will still be present, but the luxury tax will not be an issue. This is what the point for the trade was.
For LA, this prospect of Oklahoma having young, cost-controlled talent can be scary.
However, Lakers will bring back the same squad next year(yes guys, Dwight Howard is staying), and also, let's not forget that LA will have tons of cap space in 2014 to re-tool. Lakers should not worry about the Thunder in the future, and they will always be in the fight for the championship, as the Buss family is committed to winning.
In summary, for this year, Lakers definitely benefit. The Thunder got weaker. Long-term, LA fans should not worry.
Lakers will always re-tool to challenge anyone.
Rejoice Laker fans, as OKC became easier to beat instead of increasing their odds for a title this year!